Measure what the world loves
We are united by our belief in the power of human connection to make the world a better place
A wonderful and curious mix of Neuros (passionate PhDs) and Normies (those without the fancy Dr. creds, but just as much passion), we're all lifelong learners and proud nerds.

We understand that data should be seen as a tool, not a goal and we strive every day to help our users leverage the power of neuroscience to unlock insights and knowledge that build connections on a deeper level.
CHIEF IMMERSION OFFICER / FOUNDER
Paul's two decades of research have taken him from the Pentagon to Fortune 50 boardrooms to the rain forest of Papua New Guinea. All this in a quest to understand the neuroscience of human connection, human happiness, and effective teamwork.
PROUD NERD FACT:
Paul has been obsessed with human connection for as long as he can remember. His focus on understanding connection led to his ground-breaking research on oxytocin. And all of this work led to the best title ever: nope, it is not PhD or keynote speaker, it is Dr. Love. This wonderful title is often what he is called by the media (and we're hoping at least a few people at family BBQs.)
CHIEF EXECUTIVE OFFICER
Scott has spent the past 25 years building startups as a founder & investor from idea to multiple exits. He creates passionate teams to change the world of messaging, compliance, corporate venture/startup engagement and enterprise SaaS.
Good to know:
Scott plays the uke and invented the bacon wrapped tot. (He rarely cooks and plays the uke at the same time, but it has happened.)
CHIEF SCIENCE OFFICER / FOUNDER
Jorge specializes in applying psychology and neuroscience to understanding and predicting consumer behavior, and has published numerous articles on emotional engagement, prosocial motivation, and the use of stories to influence costly decisions.
Fun Fact:
Jorge's first venture into scientific research was when he was a participant in a psychology study as a toddler. He does not remember consenting to it.

Laura Beavin, PhD
SVP of Customer Success
PROUD NERD FACT:
Laura has always been into numbers, and many customers comment on her "honest and over the top love for data" and enthusiasm for the Immersion science. This is not a new thing. Laura won the #1 spot in Math in elementary school. She asked her mom for a tattoo to mark the occasion but was turned down at the time (being 10 years old). The team thinks she should get one now to mark the achievement belatedly.

Elizabeth T. Terris, PhD
Head of product
PROUD NERD FACT:
Beth really knows how to have a good time. While many spend summers at the beach or in the mountains, Beth goes to Spit Camp. Yep, you read that right. She attended a camp at John Hopkins to learn how to extract hormones from spit. This took many days of focused work and training. And yes, they did have a cabin song.

Arial Fernandez-Monteith, MS
Director of Customer Success
PROUD NERD FACT:
Ariel is a bit of an etymology nerd. She researches the etymology and cultural linguistics of random words and phrases all day long. For example, "clue" comes from the word "clew" which is a ball of string that was used in a story to help someone out of a labyrinth. And her personal favorite is that "how come" evolved from "how did it come to be this way." Nerdy? Yes. Fascinating? Always.

Alison Romer
DIRECTOR of Marketing
PROUD NERD FACT:
Alison is that unique combination of someone with big vision who also appreciates the details. This is likely due to a myriad of experiences and education. But we like to think it's because she pays attention to when she wakes up every morning. She sets her alarm so that she wakes only when the minutes are evenly divisible by the hour. Currently 5:55 and 6:54 are her favorite times to greet the day.

DANIEL KRAFT
Ambassador of Emotional Awesomeness
PROUD NERD FACT:
Daniel has an impressive ability to bring out positivity and energy in the people around him. But this is not all Daniel's doing. He has a mental fitness trainer who keeps his optimism in tip top shape with brutal drills. Daniel's son trains him by bringing up big debates, like how black holes work & why time travel is possible, every morning before Daniel has had coffee. Before. Coffee. That is some black belt training in our book.

Sammy Alequin
Customer Success Manager
PROUD NERD FACT
Sammy was bitten by the travel bug when she studied abroad in India during her undergrad at California State University Los Angeles. Since then, she has had the privilege of traveling to 8 other countries – her favorites being Ireland and Switzerland. She spent two months working in Dublin and almost didn't come back! Her favorite part of traveling is getting to try new food and finding the spots that locals hang out. Music is also a big part of her life. She's been to concerts in 5 different countries including Germany, Scotland, and England!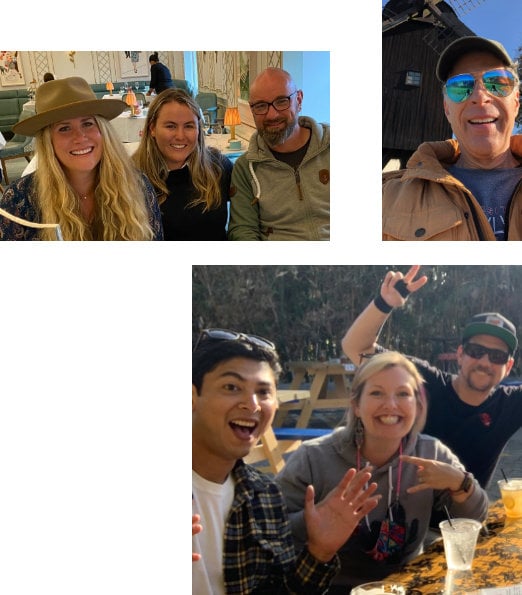 We are looking for amazing brains to join the team
Immersion is a fully remote & distributed team of brainiacs and we are always looking for super smart people, like you, to join the journey.
Drop us an email at hello@GetImmersion.com and let us know how you could help us measure what the world loves.